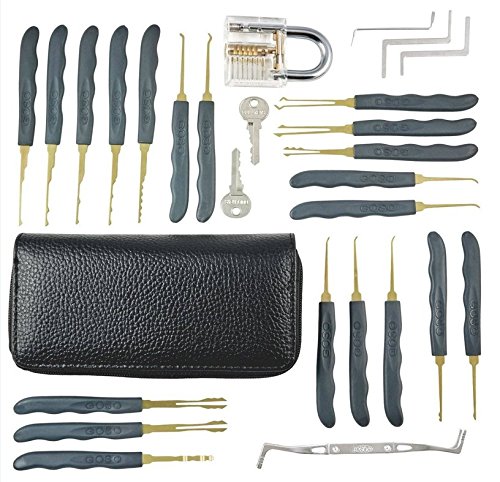 Reviewing: Looching's 24 Piece Titanized Lock Picks

When it comes to lock picking, there is no doubt that when it comes to the most difficult locks, the picker is only as good as the tools that they have available. This is the best selling lock pick set on Amazon, so we decided to take the tools out for a test ride to see how they held up with some of the locks we had laying around. This review comes after using the set for well over one full year. That's important because we like to test the durability of these tools over time to make sure they hold up and will last you.
The first thing worth mentioning with this best selling lock pick set is that it comes with two different practice locks. Although they are both pin and tumbler sets, one is the standard padlock that you see in most practice sets. However, this one comes with a cylinder style lock which makes this the most complete kit we have found at an affordable price. It resembles a car lock in appearance. This lock pick set also includes a lock pick set for cars! So buckle yourself in.
As far as the exact specifications of the lock pick set, they are: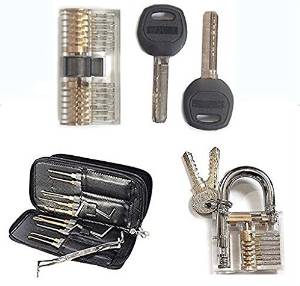 24 pieces, includes rakes, picks and tension wrenches
Leather Carrying Case
1 Practice Padlock
1 Practice Cylinder Lock
Titanized Finish
Car lock picks included
The Lock Pick Set
The transparent padlock is pretty standard, similar to the Tontec that we reviewed. The cylinder style practice lock is pretty sturdy even with the plastic housing. You can clearly see each pin inside. It won't be an issue to see exactly what you are doing when practicing. This lock was actually much more difficult to pick than some of the other practice locks that we have played with in the past. This can always vary production run to production run due to pin height, imperfections etc. but generally it seems that the pins had a far more disparate space between each pin and the shear line than most.

This is the best selling lock pick set for a reason. Coming with 24 pieces and 2 practice locks, it is hard to beat this lock pick set without burning a hole in your pocket
Read review
Now, let's get to the picking tools themselves. These tools are titanized which means that the steel construction that they are made of are treated with in a thermo-chemical process. This enhances the service life of the tools and also makes them far more effective for picking because they slide off of the pins really well and don't get stuck. One of the main things you should look for is the treatment or texture of picking tools. If you get some that are not polished or treated, they will not have enough friction to pick the lock without breaking off.
Does It Live Up To The Best Selling Lock Pick Set Title?
Overall, it was easy for us to see why this is the best selling lock picking set on Amazon. It sells for less than $30USD and comes with 24 pieces and 2 practice locks. You will be hard pressed to find a better deal with this complete of a set. We have now put this set into our achieve of tools that work well and won't break the bank. Even after having used them for well over a year now, they have held up. We haven't broken one yet! Man, I wish we could say that for all of our pick sets.
The Best Selling Lock Pick Set - 24 Piece
This is the best selling lock pick set for a reason. Coming with 24 pieces and 2 practice locks, it is hard to beat this lock pick set without burning a hole in your pocket