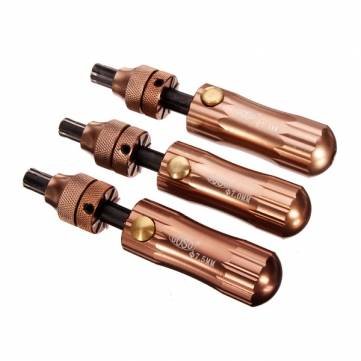 GOSO Tubular Lock Pick Set To Pick Vending Machines
Alright! This is one of our favorite tools, so buckle yourself on in because we are going to go ham. We have always been fascinated by picking vending machines since childhood. This may be because when we are that young, our eyes are staring straight into that lock and you know that money is inside. You can also find these types of locks on coin-operated washing and drying machines. We grabbed this tubular lock pick set off of Amazon and we are pretty dang happy with it. Now let's get to some details.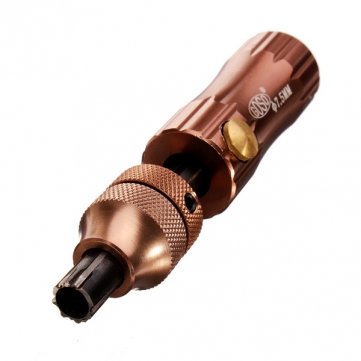 First of all, this comes with 3 pieces which emulates the three typical sizes that you see out there in the wild. Each pick is fully adjustable so you can do to any depth that you need. This is especially important because often times different manufacturers will use locks that are either deeper or more shallow depending on the machine. The three sizes that this set comes with is 7mm, 7.5mm, and 7.8mm. We are able to pick most tubular locks within about 30 seconds. To put this tubular lock pick set to the test, we gave it to our friend Benny who has never picked a lock before. At first, he didn't know what to do, he is pretty uncoordinated. After he figured that out, it only took him about 5 minutes to pick his first tubular lock. That goes to show us that these things are super effective.
The GOSO Brand
The GOSO brand really did manufacture a great set. The feel substantial in your hand with a phenomenal grip. GOSO is one of our favorite and most trusted lock pick brands out there on the market today. Bodies of these tubular lock picks are made of solid metal. They also have a nice brass finish. The finish has not yet worn off on us and we have owned them for about six months already. In our experience, that is pretty dang nice! You can adjust these quite a lot. In fact, the distance that the adjustment travels is about 3/4″ up or down depending on what you need.
Great For Everyone
Whether you are a seasoned locksmith or a beginner just trying to figure it out, the GOSO tubular lock pick set is perfect for everyone. It is easy to use, effective, robust and durable. We've tried some less than stellar tubular lock pick sets before and I will be the first to tell you that for these locks, although simple, require nice tools to be able to pick. You can also fashion a make shift version of these, but they won't work nearly as well. No matter if you are trying to open up an old vending machine or just want to test your skills, this is a must have for any lock picker's arsenal.
You may find some locks boasting "high security" however, let me tell you that they are no match for you tubular lock picks and some skills that you can learn here at Picker Of Locks. So get out there and get started everybody, it's time to crack open that vending machine!
GOSO Tubular Lock Pick Set 3 Piece
This is one of our favorite picks period, making it our pick for the best tubular lock pick set around.