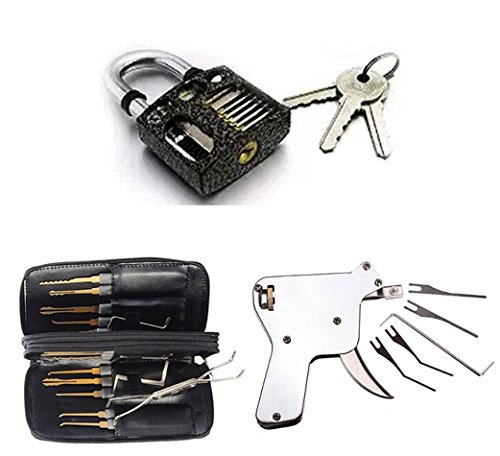 A Great Pick Gun Set For Beginners
Alright here we go! This is our review of the pick gun set by Looching. Yes, the same sounds Chinese and it totally is but that doesn't mean that the quality is wavering. We picked this pick gun up on Amazon for about $35 bucks and for the price, we were not disappointed. For professionals, this pick set is not for you. For beginners this pick gun will do just fine. In fact it may work very well for some of those locks you have laying around. First thing first, let's go over the exact specifications: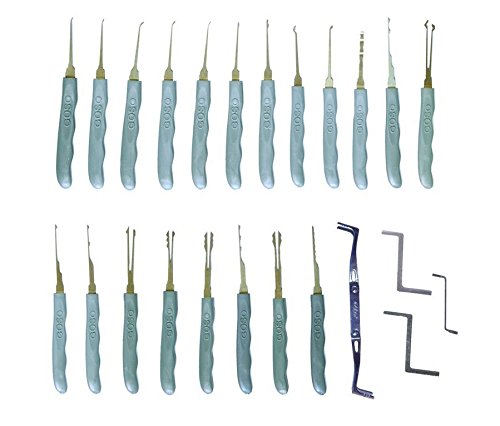 Aluminum construction, polished
24 Total Picks

      12 Picks for Standard Locks
      12 Picks for Wafer/Car Locks
1 Pick Gun

1 Black Practice Padlock

1 Case for picks
The great thing about this pick gun is that is super cheap and it comes with a wide variety of picks, especially for the price. I will tell you right now that the picks included are not top quality like you might expect from some of the more professional manufacturers. However, for this price – you can pick some serious locks with this thing. As with most beginner sets, a practice padlock is included which boasts a transparent portion where the pins lay. One of the more interesting parts of this set is that exactly half of the picks are for what we would call "standard" locks, meaning the typical pin tumblers that we are used to seeing in padlocks and most simple door locks. The other half of the picks included here are for wafer/car locks. One of the awesome things about that is that it give this pick gun set the ability to be used in many different forms and facets.
The practice lock included here is a bit faulty. It's very easy to pick because the padlock itself was not machined in a way where the pins are hard to pick like you will find inside of a Master Lock. So if you really want to test this pick gun set out, I would suggest purchasing a real padlock and practicing on that baby. The gun itself feels pretty sturdy and its mechanical features of movement work well. The only downside that we found testing this out was the screw that holds the dial in place. You can affix a piece of hard plastic next to the screw so when it spins, it won't simply come out of the threads and fall out. We were able to pick 4 standard Master Lock padlocks in about 20 seconds each – not too shabby.
Conclusion
Generally, this is a fantastic pick gun set for a beginner. But it also works for someone who has not yet owned a pick gun set yet in life. For professionals, I would recommend going with Peterson or SouthOrd. However, you can expect a price tag that will be two to three times higher than this beginner level one. Only time will tell how long these picks will last. I suspect that after a couple years of use that they will not last too long in a like-new condition. Great if you have been using your traditional pick set and are ready for something new to add to your arsenal. Pick grab this guy and get to practicing!
A Great Pick Gun Set For Beginners
Generally, this is a fantastic pick gun set for a beginner or for someone who has not yet owned a pick gun set yet in life.