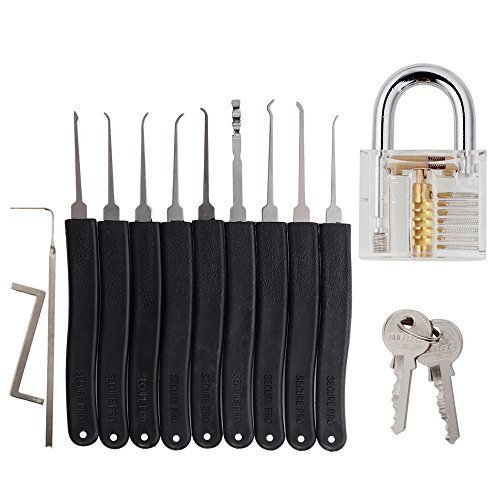 Checking Out: The Tontec 11 Piece Lock Pick Training Set
Introduction
This lock pick set is perfect for the beginner. This pick set is surprisingly durable and the metals is very high quality. There is no doubt that this is the best lock pick set for beginners. This set comes with two different tension wrenches, the standard "Z" type and one of the "7" style wrenches. The 7 Style wrench works extremely well because you can modulate the tension very easily. The construction of this lock pick set is robust and sturdy, better than many of the more expensive lock pick sets available. If you want to get started with lock picking, this is the best set for you.
The clear lock included here has 6 pins and 1 set pin, since this trainer lock is transparent – it is very easy to see how well these picks and rakes work on this padlock. Now, this lock isn't the most difficult lock to pick ever but it's not easy either. The lock that comes with this beginners kit it just as tough to pick as a standard master lock that you can buy from your local hardware store or Amazon.com.
The Lock
This lock pick training set has a lock measures about 3 inches by 2 inches, very similar to the size of a business card. There is a total of six pins that are accessible through the keyhole of the lock. This lock is no more or less secure than a master lock, no joke. So don't think of this bad boy as a weak training lock because it is actually harder to pick than a standard master lock.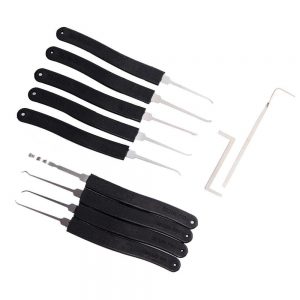 The Picks
These things are durable! I have made the mistake by buying more expensive lock picks that were twice the price and half the quality of these picks. The perfect starter pack for your lock pick training set. This comes with a great mixture of single pin picks. I was skeptical of the plastic handles before ordering this lock picking set, but upon receipt I actually like them more than some of the intermediary metal kits that I have due to the grip.
The only downside of this set is that it does not come with an rakes – which would have made this kit a 10/10. Quality is important in these things because you will be shoving and bending these things a lot. Since there are no rakes included in this set, the variety of picks score goes down to a 9/10. Still, I love this beginner lock picking set even if it's not the best all around lock pick set.
In Conclusion
So what makes for the the best lock pick set for beginners? We rated this kit on quality, pick variety and tension wrenches. The tension wrenches are super awesome in this kit. They provide a perfect thickness of sturdy metal, completely prepared to turn that lock cylinder and get you into that lock. So that sums up our review for the best beginner lock picking set, hands down the crown goes to the Tontec 11 Piece which you can find a link for down below. This lock pick training set is ready to go! Let us know if you have any questions about this particular lock picking set. Or ask us just about anything else about lock picking.
For more lock pick set reviews, please visit our section for all the reviews here: Lock Pick Set Reviews
Tontec 11 Piece Lock Pick Set: The Best Lock Pick Set For Beginners
This beginners lock pick set is a great value and should be in every lock picker's bag that is just starting out. Features a 6-pin clear practice lock