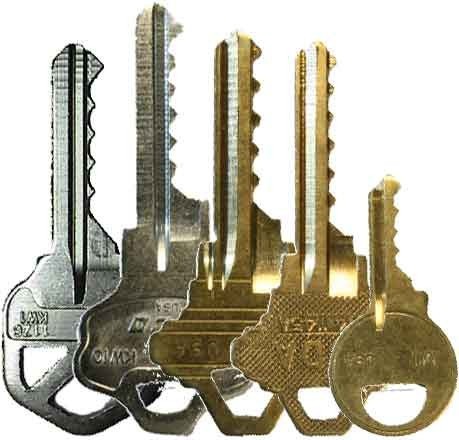 Residential 5 Piece Bump Key Set
These keys are designed for residential door locks to allow you to get into pretty much any room that you want to as log as the bump key fits in that key hole. All you have to do is put the key in the lock and hit it a little bit and boom! You should be in that door. Take a look at our detailed guide on
How To Pick A Door Lock
using a bump key to learn how to do this in more detail.
Bump keys
are some of the most popular types of lock picks because sometimes they don't take much time to use and you can simply fit it on your key ring along with your other keys. Bump keys are convenient and awesome.
This key set comes with 5 different key types. This set is the basic set so it covers the basic locks that you will find in your typical door knob. The types of locks this set covers are:
– Kwikset KW1 Standard Bump Key – (5 Pin)
– M1 Padlock Bump Key – (4 Pin)
– Schlage SC1 Bump Key – (5 Pin)
– Schlage SC4 Bump Key – (6 Pin)
– Titan KW10 Bump Key – (6 Pin)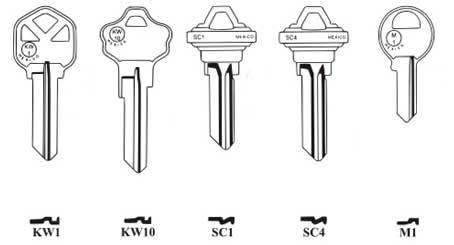 In North America, the majority of the door locks that you will find are pretty easy to bump. We tested this basic 5 piece kit out on some doors in our neighborhood and the results were pretty crazy. We were able to bump every single house for a total of 10 door locks except for one. One of the neighbors had a super high security door lock that requires a different bump key. It is surprising to see how easy it was to bump your way into their "secure" house.
Based on this small case study and speaking to our other locksmith and lock picking friends, this bump key set will take on most doors. There are 11, 18, 23, and 39 piece sets that are out there which we also review. Since this only has 5 keys it makes it extremely portable and for a basic lock picker or just someone trying not to get locked out of their house this makes for an excellent option.
Deterioration
The metal on these bump keys is solid and have not deteriorated over time. The bumps on the key are nice and finished and they fit into locks very easily with little resistance. They look like regular old keys so no need to worry about looking sketchy. Throw these on your existing key ring and you are good to go. The only other thing that you will need is a hard object to hit it with but you can improvise that device just about anywhere.
Bump keys are awesome, we really do love them. That and anything that can make it easier to get back into your house without calling a locksmith is a winner in our books! If there are other locks that you would like to see us try with bump keys, hit us up!
If you are looking for more bump keys, check out our other lock pick reviews!
Residential 5 Piece Bump Key Set
Your basic entry level bump key set that will open most residential door locks in the USA