Decoding The Credit Card Lock Pick Set
Introduction
Wow, talk about some under cover sneaky spy gear. With this credit card lock pick set – you will never forget your kit at home. Half of the time when I really need my lock picking set, I have left it somewhere else. But not anymore! We like to take our picks with us wherever we go, that's why we set out to review this credit card lock pick set ourselves and see if we couldn't pick a few locks with it. We picked up the credit card featuring the statue of liberty and "James Bond" name on Amazon.
The Picks
The picks that are included in here are actually really superb, surprisingly in fact. The stainless steel metal construction that they are made out of is very sturdy and smooth so they easily slide into the lock with little friction which makes picking all the more easy. They have included all the best lock picks that work the most often on the highest amount of locks. This kit boasts an impressive line up of: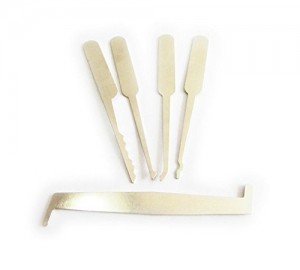 1 Standard Tension Wrench
1 Key Rake
1 Double Wave Rake
1 Diamond Pick
1 Standard Single Pin Pick
A sweet "James Bond" style credit card holder
I have picked a ton of master lock pad locks with this kit and let me tell you, these are good picks. I really have nothing to complain about when it comes to these. These lock pick business card style designs work really well.
The case itself is a bit clunky and is about 2-3mm thick, which is not thin by any means. However, if you're like me and have a massive wallet anyway or better yet a purse or fanny pack then you won't mind carrying this little guy. If you wanted to, you can easily remove the pick set and ditch the plastic part all together. The only thing that I would like to see included in this kit is a more wavy rake, the one included is good but if those pins are small in that lock that you are picking, it's going to be hard to reach them with the small wave rake. However, this little credit card lock pick set is the best one that we have found for the price.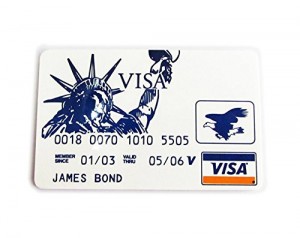 In Conclusion
No matter if you are looking for something slick to put in your wallet like this credit card lock pick set or just want to get that lock pick business card in there – this is a great little portable set. The size is exactly the same as a credit card, although much thicker obviously. This small set will pick 99% of master locks our there in under 30 seconds once you have honed in your lock picking skills. Sure, it may look a little sketch carrying this little guy around with you in your wallet, but who cares! You probably wouldn't be at home learning how to pick locks with us if you were worries about silliness.
Make sure to check out our other Lock Pick Set Reviews to see what the right one is for your individual application. We review everything from the most basic to the most advanced tools for lock picking – and with that, Happy Picking!
Best Credit Card Lock Pick Set
We love to take our lock picking with us at all times! That's why we reviewed this awesome little credit card lock pick set.