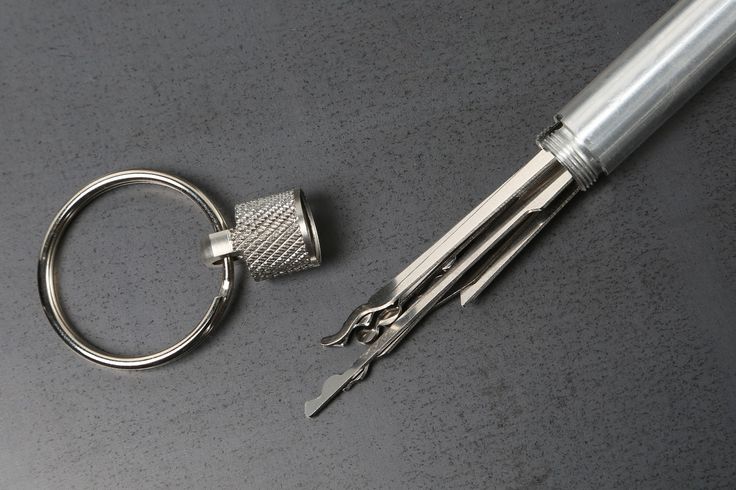 Get MacGyver With A Pen Lock Pick Set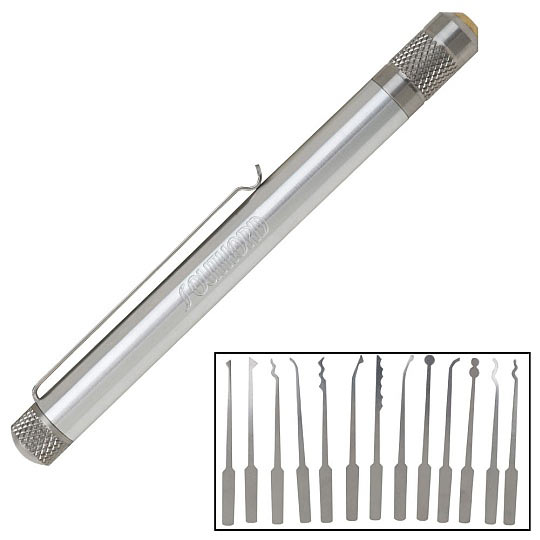 Alright, first of all Southord is one of our favorite pen lock pick set companies in the world. Their materials are always polished and of the highest quality. This pen lock pick set is no different in that it is also super high quality which is why we give it such a good rating. This simple yet multifaceted tool will pick any lock you are looking to get past. No let's take a deeper look at it.
To Start off, this thing is the same size as any regular pen you can think of. As far as portable lock pick sets, this has to be one of our favorites if you have some room in your pocket, purse or backpack. This set from Southord comes with 14 different picks and 4 different torsion wrenches all in one pen which makes it the most robust out of the different portable lock pick sets. It's unassuming case is made of aluminum and does not accidentally open when carrying it around. The case of this set measures about 5″ long by 1/2″ wide. When you pick it up in your hand, you don't realize that there is something awesome inside – it just feels like any regular old pen would feel like.
Specifications:
– Aluminum around
– Polished
– Ballpoint pen construction
– 14 different picks to choose from
– Professional quality
– 4 tension wrenches
Wrap Up
Whether you are a beginner, intermediate or advance lock picker – this set truly is for everyone. The professional quality and amount of picks available in this set makes it one of our coveted must-haves for every lock picker. The set features several different types of rakes, individual pin picks and tension wrenches.
This pick set is so diverse that you can pick just about every single lock out there with these, even those pesky mushroom pins. SouthOrd is by far one of the most famous lock picking manufacturers out there for beginners and professionals. They really do take quality to the utmost importance because they know that people are relying on them to machine tools that work in the real world. This pen lock pick set is polished and slips right into locks with no resistance. This is important after all, because the ones that are not will get stuck in your lock and break.
The pen style pick set is definitely one of our favorite form factors due to it's portability. You can have one of these little guys sitting on your desk at work in a pen holder. No on would even know the different. It really does make you feel like you are 007 out there which is definitely a cool added bonus to this en pick set. Do you have a lock pick brand or particular set that you would like to see us review? Don't be shy. Hit us up on the contact form and we will buy and review any lock pick set that you would like us to. After all, without you guys we wouldn't be so stoked on creating new and interesting content for all you pickers out there.
Pen Lock Pick Set by Southord
This pen lock pick set comes with 14 picks and 4 tension wrenches. All put into the size of one regular ball point pen. This pen lock pick set is one of our faves