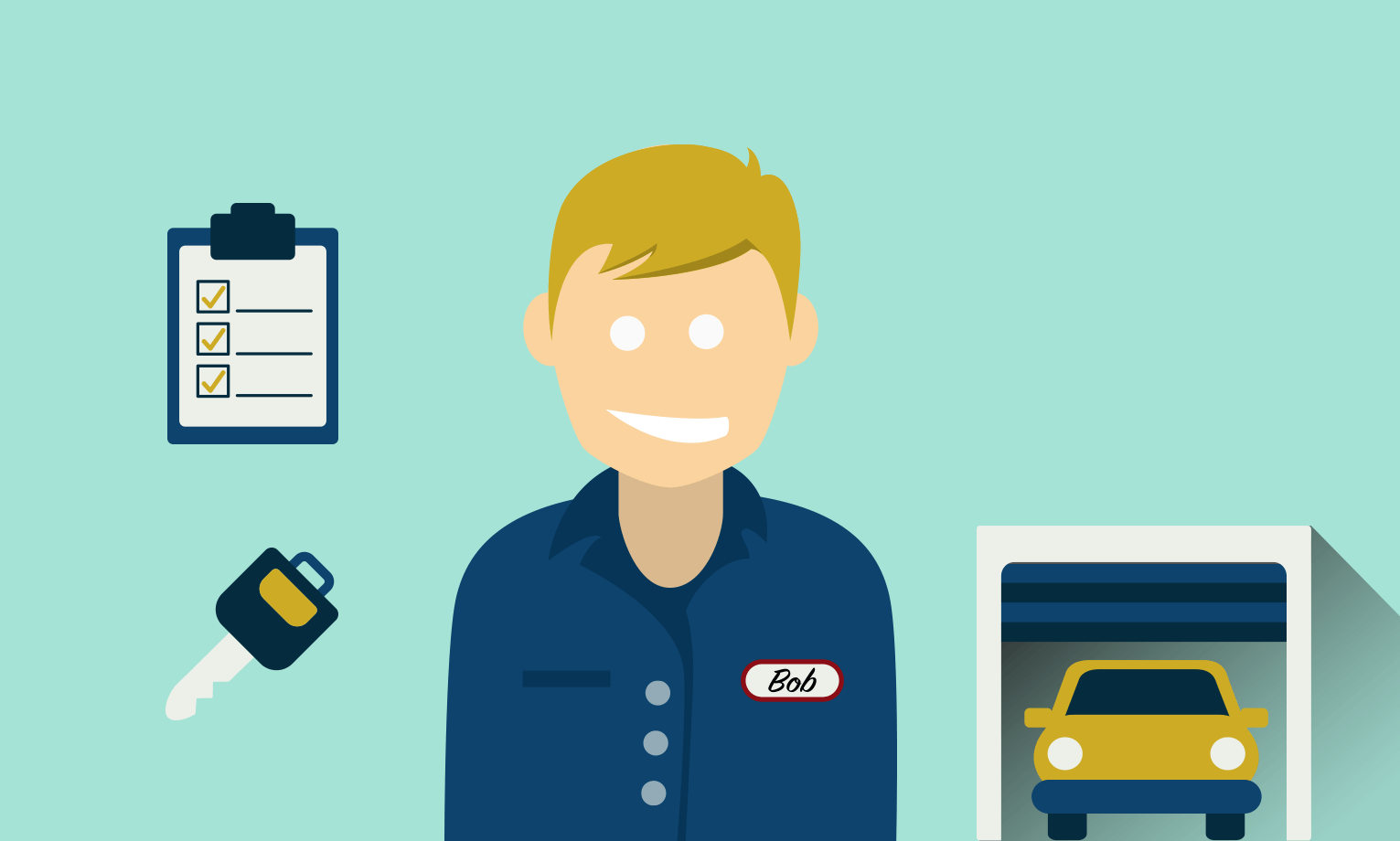 Never Get Locked Out Of Your Car Again, Yo
We covered how to pick a car lock in our series of How To Guides. This is a breakdown of the simple tools that you can buy now and put in your backpack, garage or anywhere you can stash it so that you can get back into your car without hiring an automotive locksmith to do the job for you. Trust me, we've been there too; locked out with the keys inside your car and totally hopeless. Right after that, I ran to the store and bought a ton of automotive locksmith tools because it's way cheaper. So, let's get started breaking down the best auto locksmith tools out there.
Auto Jigglers
There are many types of jigglers out there. In fact, different makes and models often utilize different types of keys so you need to either get a universal set or one specific to your car make. Essentially, you are going to put this into your keyhole on your door and jiggle it and turn until the door opens up. This works the best with automotives that are older, however most basic models that do not use a key fob can be opened by these. There are several new cars that have "minimalist" designs that have manual door locks and simple keys like the Toyota Yaris. Our favorite universal auto jiggler is this one here: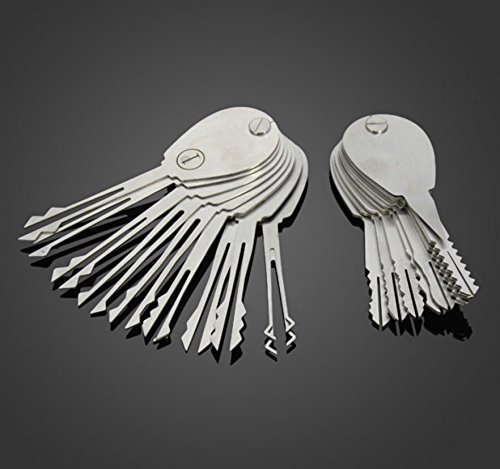 You can pick one of these bad boys up for about $20 bucks
Comes with 20 Pieces and they are double sided
Fits most makes and models
Pump Wedge
We are major proponents of having a solid wedge for opening up car doors. Our favorite kinds of wedges are the pumps because they won't damage your car. There are several even cheaper options that are made of plastic or rubber but they do not work as well and provide much less usability than the air pump wedge style of automotive locksmith tools. The great thing about these is that they really don't have to break the bank in any significant way. One of our favorites that we own, we picked up for about $15 bucks on Amazon. This one has actually been put to the test in a real situation when my brother locked his keys in his 2002 Honda Prelude. Needless to say, we got in.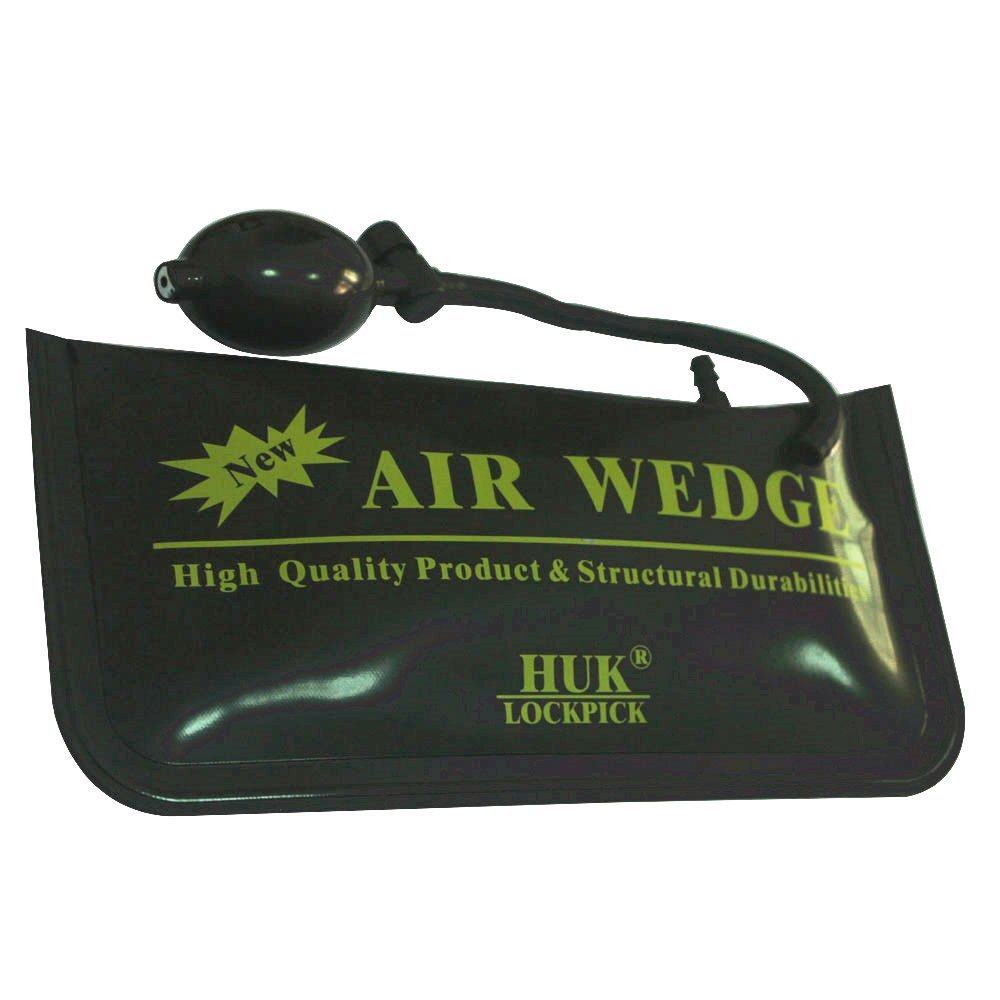 Grab one of these for $15 bills
Sturdy rubber fitting
Won't damage your paint job
Long Reach Tool Kit
In order for you to use the pump wedge, you will need a long reach tool. This is consistently the best option for opening your car up. Wedge the door open and reach in with a long reach tool to open the door from the inside. However, you can also pick up a slim jim for older cars which is much easier. Slim Jims are pretty awesome in their simplicity and their effectiveness therein. These are most effective with older cars, especially without automatic locks and also with locks that have a horizontal orientation. All ya do is place it between the window and the car door and pop her open. One of our favorite and most inexpensive automotive locksmith tool sets is the one by Lock Tech.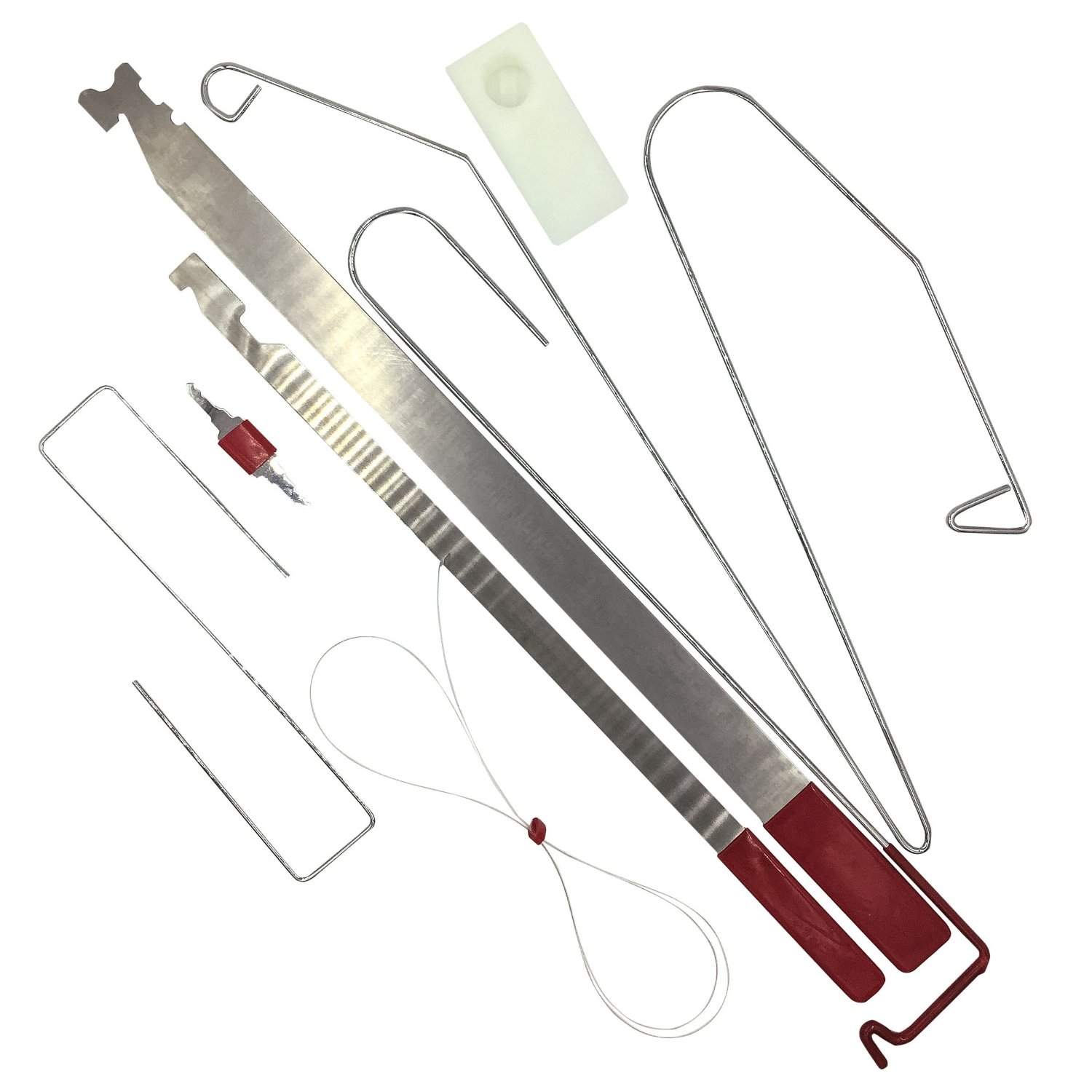 Fit almost any car

9 pieces total

Strong and durable

Super easy

Nice case included

Need to get a wedge of some kind
Time To Call An Automotive Locksmith?
The answer here is, maybe. Like most things it's not so cut and dry. If I were to give you some advice, I would say purchase these tools. Leave them in a location that allows you to have access to them when you are locked out of your car. In other words, don't leave them in your car dummy. But seriously, I would recommend picking these up ASAP.